Haru, Kanade (春、奏で, Haru, kanade) is a song by Haruka Tōjō which serves as the ending theme to the second season of the Tsugumomo anime.
Description
Like the previous ending theme, the ED is presented in a painterly style, reminiscent of watercolor paintings. A front facing shot of Kiriha is shown as her hair blows in the wind while the camera slowly pans away before fading to white and transitioning to the next scene. A shot of a desk with a Hazakura is shown, panning from the left to right. Next is a shot of of Kazuya's club room, showing and cleared table and panning up to an empty whiteboard. A shot of a young young Kazuya cling to while looking up to Kiriha is shown, followed shortly by a shot of Kiriha smiling down at Kazuya. The next scene depicts a young Kazuya with his mother and Kiriha, Kazuya and Kiriha eating popsicles out on the engawa, Kazuya happy having finished his. Two panning shots of Kiriha in a field and Kukuri at her destroyed shrine are shown. A panning shot moving towards ad shows Kazuya as he sits, zooming closer towards his face before he stands up and looks towards the sky with stars spinning in a circular formation.
Lyrics
Video
Official Music Video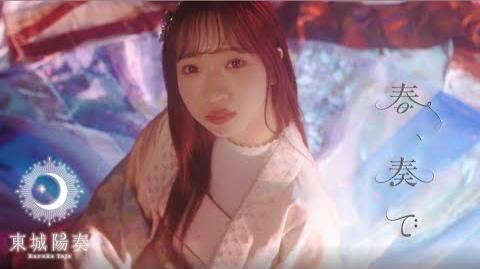 Community content is available under
CC-BY-SA
unless otherwise noted.