Kaze Fukeba Tsukiyo no Hate ni (風吹けば月夜の果てに, Kaze Fukeba Tsukiyo no Hate ni) is a song by AOP which serves as the opening theme to the second season of the Tsugumomo anime.
Description
Sakura petals fall to the floor as Kazuya kneels, looking at Kiriha from behind in a white void. Petals obscure the screen transitioning to Kazuya rising up upon his rooftop as the sun rises. Elsewhere, Akito Ashimine clenches his fist as Arumi Ashimine stands beside him and the sun rises behind them. A sakura tree is shown, panning upwards, revealing its glowing petals and a bright full moon as the season's logo fades in. A petal flies by which is followed by the camera to another tree with Kukuri riding atop Kokuyou's shoulders on the tree as the two watch the sunrise over Kamioka.
The scene changes a first-person point-of-view from Kazuya's perspective, as he wakes in his bed, bumping his head on Kiriha knocking her out of bed. Kazuya gets out of bed and opens his windows curtains to see a large bruise on his head from waking up.
A sudden cut to Akito's point-of-view as he looks at himself in Mimane's mirror. Mimane backs away giggling and Akito turns to Arumi and Yasuki sitting beside him. Panning shots of Mayoiga are shown.
The camera returns to Kazuya's point-of-view as he enters his club room to find Tadataka Tadata, Chisato Chikaishi, Shirou Shiramine, Osamu Osanai and Kukuri who jumps around him, barely in view. A panning shot of Bakura sleeping is shown. A shot of Azami standing a a field of flowers is shown. Azami turns around toward the camera as it closes in to her eye, transitioning to Kukuri in her child form holding a mask and then her adult form holding her Akujou mask. The scene changes to a shot of Kotetsu attacking and transforming into a katana, falling into the ground as Sunao picks him up and prepares to fight. A panning upwards shot of Taguri Kanayama with three coins between her fingers and her Diamond Prism behind her, followed by a another panning shot of Honoka surrounded by flame and a miniature version of herself manifesting.
The camera zooms in on a spiralling white orb which reveals itself to be Arumi's crystal ball, Arumi's reflection fading away to reveal, Yasuki, Chikage, Mimane, Akito, and Tanmen looking inside the ball. A panning shot of Kyouka playing her flute is shown.
A sakura petal falls into Kazuya's hand, which he clenches before screaming and activating Ascension. Sudden shots are shown of, Kiriha, Kasumi, Kokuyou, and Kukuri at their home, Sunao's home with her mother and father, and a single shot of Kiriha looking from behind and smiling. The scene returns to an upward panning shot of Kazuya using Ascension as energy flows around him and he grits his teeth looking ahead of him.
The camera changes to Kiriha point-of-view, as she jumps out the window of Kazuya's room, onto the roof where Kazuya was earlier, and latches onto him with her obi. As she gets closers to Kazuya's face, it reveals smiling face in the reflection of his eye before transitioning to a third-person point-of-view of Kiriha spinning around Kazuya, as the two settle down on the roof of their house.
Lyrics
| Japanese Kanji | Japanese Rōmaji | English Translation |
| --- | --- | --- |
| 風吹けば乱れて | Kaze fuke ba midarete | Scattered when the wind blows, |
| 覚悟に燃えゆく | Kakugo ni moeyuku | Burning in resolve. |
| 儚く空に消えた | Hakanaku sora ni kieta | Please know my fleeting wish |
| 願いを知ってくれ | Negai o shitte kure | That vanished into the sky. |
| 十六夜の月を回って | Izayoi no tsuki o mawatte | Circling the sixteenth-night moon, |
| 固まった砂時計 | Katamatta suna tokei | A frozen hourglass. |
| 人知れず巡り巡って | Hito shirezu megurimegutte | Unknown to people, wandering from place to place, |
| 枯れた場所に沈む | Kareta basho ni shizumu | And sinking into a rotting place |
| 滲む色に溶けだした愛の花 | Nijimu iro ni tokedashita ai no hana | Flowers of love, melted into an oozing color |
| 降りしきる雨の刹那 | Furishikiru ame no setsuna | A moment of torrential rain |
| ここに散らす | Koko ni chirasu | Here, they scatter. |
| 風吹けば乱れて | Kaze fuke ba midarete | Scattered when the wind blows, |
| 覚悟に燃えゆく | Kakugo ni moeyuku | Burning in resolve. |
| 飛び立つこと忘れた | Tobitatsu koto wasureta | Forgotten how to take flight |
| 恐れも知らず | Osore mo shirazu | Knowing no fear, |
| 響かせた黄昏 | Hibikaseta tasogare | An echoed twilight |
| 月の真ん中で | Tsuki no mannaka de | At the center of the moon |
| 儚く空に消えた | Hakanaku sora ni kieta | Please know my fleeting wish |
| 願いを知ってくれ | Negai o shitte kure | That vanished into the sky |
| 叶える日まで | Kanaeru hi made | Until the day it is granted. |
| 立ち止まる霧を纏って | Tachidomaru kiri o matotte | Clad in halted fog, |
| 駆け込んだ日の本で | Kakekonda hinomoto de | I ran around without tiring |
| 飽きもせず走り回った | Aki mo sezu hashirimawatta | In the book of the days that rushed in |
| 木の葉揺れるままに | Konoha yureru mama ni | As the leaves swayed. |
| 霞む雲に届かない朝を知る | Kasumu kumo ni todokanai asa o shiru | Know that morning that the clouds can't reach |
| 幾千の傷の狭間 | Iku sen no kizu no hazama | In the gap between thousands of scars, |
| 偏に舞う | Hitoeni mau | Just dance |
| 波打てば砕けて | Namiute ba kudakete | Breaking when hit by the waves |
| 戸惑いを焦がす | Tomadoi o kogasu | Rushing in confusion |
| いつからか決められた | Itsu kara ka kimerareta | It was decided at some point. |
| 流れも知らず | Nagare mo shirazu | Not even knowing the flow |
| 繰り返す五月雨 | Kurikaesu samidare | A repeating early summer rain |
| 涙を隠して | Namida o kakushite | Hide your tears. |
| 孤独な海で捨てた | Kodoku na umi de suteta | I cast them off by the lonely sea. |
| 飾りはもういない | Kazari wa mō inai | There are no more decorations |
| 花咲く日まで | Hana saku hi made | Until the day when the flowers bloom |
| 風吹けば乱れて | Kaze fuke ba midarete | Scattered when the wind blows, |
| 覚悟に燃えゆく | Kakugo ni moeyuku | Burning in resolve. |
| 飛び立つこと忘れた | Tobitatsu koto wasureta | Forgotten how to take flight |
| 恐れも知らず | Osore mo shirazu | Knowing no fear, |
| 響かせた黄昏 | Hibikaseta tasogare | An echoed twilight |
| 月の真ん中で | Tsuki no mannaka de | At the center of the moon |
| 儚く空に消えた | Hakanaku sora ni kieta | Please know my fleeting wish |
| 願いを知ってくれ | Negai o shitte kure | That vanished into the sky |
| 叶える日まで | Kanaeru hi made | Until the day it is granted. |
Video
Official Music Video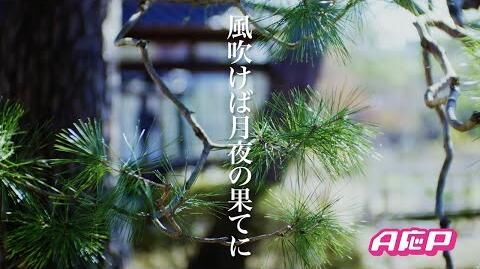 Trivia