Jurassic World: Dominion Dominates Fandom Wikis - The Loop
Play Sound
Takano Tagusari (田鎖たかの, Tagusari Takano) is an exorcist at the Tsuzura Temple. She is the daughter of Takigi Tagusari and younger sister of Takumi Tagusari. While initially a member of the Servitude Faction faction, she was secretly a supporter of the Partnership Faction faction and later joined them.
Appearance
Personality
History
Takano was born to the exorcist, Takigi Tagusari and is the younger sister of Takumi Tagusari. From a young age, together they trained with their mother and accompanied her on missions. Takumi was often overprotective of Takano would instruct her in what to do. [1]
At some point in time, Takigi separated her tsugomomo Gintsuki into two halves for her children to inherit, with Takano gaining Sasagure. At some point in time, their mother suffered serious injuries, an incident which lead to Takumi's obsession with being strong.[1]
It was because of Takumi that Takano was able to rise to the rank of eighth sigil. Within Tsuzura Temple, she was seen as inferior to Takumi in terms of skills.[2] Throughout their years together she had never beaten Takumi at fighting, studying, cooking, and more.[3]
Plot
Abilities
Chain Tsugumomo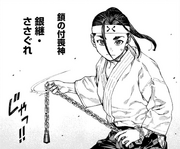 Sasagure (ささぐれ,, Sasagure): An iron chain tsugumomo with an iron weight on one end. Takano received it from her mother when she split up her own chain tsugumomo Gintsuki into two halves. One half named Sasagure was inherited by Takano, while the other half Shigure was inherited by Takumi. The majority of techniques she uses were taught to her by her brother, only recently acquiring new techniques which she learned from Kazuya Kagami.[1]
Gallery
References